Many of us are introduced to the law in our younger years, watching the likes of Gregory Peck, Tom Cruise and Julia Roberts glide across our television screens as they brandish the shocking piece of evidence that turns the case on its head. The slick suits, the dramatic twists – while the legal industry certainly sees its fair share of excitement, the reality is that it's an extremely broad field covering a wide range of purposes and disciplines.
Unsurprisingly, it's easy to get confused between the different types of lawyers and what exactly they do. If you've heard the term corporate lawyer thrown around, there's a decent chance you don't have a clear idea of the role they play in the legal industry and broader society.
Corporate law in a nutshell
Corporate law is a body of law that sets out the rules and regulations governing how businesses, companies and organisations operate. Important areas of this law include:
Mergers and acquisitions
Franchise, distribution & Licenses
Non-disclosure agreements
Employment agreements
Trade secrets
Seed investment
Ownership structure
Shareholder rights
Company formation
Partnerships
Corporate financing
Insolvency
A typical corporate lawyer in Singapore may work in a law firm or as part of a company's internal legal team, with a role focused on restructuring corporate entities, acting on mergers and ensuring any business activities comply with corporate laws and regulations.
Corporate vs commercial law: What's the difference?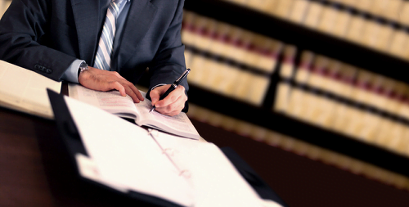 Corporate law is often confused or conflated with commercial law which, while closely related, is a broader term covering the commercial activities of businesses including property, contracts, labour, intellectual property and other aspects of the sale and distribution of goods and services.
Both corporate and commercial lawyers are integral to the success of companies and businesses, particularly those with complex organisational structures and national or international dealings. Singapore's status as a global business hub makes both professions extremely relevant to the function and growth of the economy.
How a corporate lawyer adds value to a business
From a tiny startup to a trillion-dollar multinational conglomerate, organisations are bound by an exhaustive list of rules and regulations dictating what they can and can't do. Corporate lawyers are specialists in helping companies navigate these laws as they launch, grow, diversify and even shut down, ensuring their interests are protected without landing in any hot water. In other words, corporate lawyers help owners and managers make beneficial business decisions, secure favourable contracts and avoid expensive legal pitfalls.
Let's take a clothing brand as an example. The owners have seen the company grow exponentially, so they engage a corporate lawyer to help them optimise their organisational structure, facilitate a merger with a rival brand and secure financing to purchase and refit a new factory. On the other hand, a commercial lawyer may be hired to assist with the terms and conditions of a product purchase or to help defend the company in court if it is accused of breaching regulations over the materials it uses.
Qualities of the ideal corporate lawyer
The role of a corporate lawyer is diverse and can reach great heights based on the size of the organisation, which makes it a popular pathway for some of the brightest aspiring legal practitioners. It's also less adversarial by nature than that of a criminal lawyer, given the role is usually more focused on facilitating than arguing against an opponent.
Any legal practitioner should have the appropriate licence and academic qualifications, but the true hallmarks of a great corporate lawyer are sharp problem-solving skills and excellent analytical abilities. Given they often work with the owners, managers or executives of a business, they need to be able to consistently interpret data and advise of potential solutions.
Tembusu Law has extensive experience in corporate law across a variety of industries, advising countless clients from homegrown startups to established multinational corporations. Get in touch to find out how we can help.